Timeline – highlighted points
>July 2015 Sutherland Estates approach the community about possible land sale
>May 2016 Survey of community commences
>October 2016 Garbh Allt Community Initiative established
>Oct-Nov 2016 Community Ballot takes places
>June 2017   Scottish Land Fund and SSE grants confirmed to secure land purchase
>June 2018     Land purchase completed
The Estate was offered to the resident community through a negotiated sale on a first option basis by the Sutherland Estate Trustees.
The Estate comprises the four townships of Marrel, West Helmsdale, Gartymore & Portgower.
The Estate covers people living within the following seven postcode areas: KW86HL, KW86HH, KW86HN, KW86HU, KW86HJ, KW86HW, KW86HT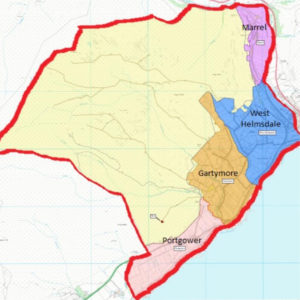 The latest Census information indicates that there are 144 residents living on the Estate aged 16 or over, as well as another 22 people who live outside of the four townships who are either crofting tenants, shareholders or own crofts within the proposed buy out area.
The Estate is located in East Sutherland and is positioned directly south of the river and village of Helmsdale. The crofting township of Gartymore is situated on the steep hillside, to the south-west of Helmsdale in the Kildonan parish. The Auchvadle Burn is the boundary between Gartymore and West Helmsdale, and the Garbh Allt Burn is the boundary between Gartymore and Portgower, the small settlement beside the A9, in the neighbouring parish of Loth. Marrel is the township beside the River Helmsdale. The coast bounds the area to the south east and a narrow stretch of land called the Shore of Gartymore carries both the A9 trunk road and the Highland rail line to Wick and Thurso through the property.
The Community survey indicated the priorities of the community per development and a sustainable future for the area. Making more of the local opportunities to create employment and support the infrastructure needed to enable people to live and work here are fundamental. The Crofting community responses indicated an overall belief that crofting was declining, and a willingness of existing crofters to pass their crofts on to encourage a new generation to become crofters.
The Community Ballot received a strong response with 76% of those in the balloted area voting. This gave a return of 96% in support of the community buy out proceeding.